Urban utility vehicle.
What the heck is that?
Well, that's what Toyota unveiled in 2003 with the Scion – using a word to name their newest product that means heir or descendant.
The idea was to target 18- to 34-year olds by offering the fun and affordable Scion, then introduce them to all Toyota products.
Good idea, fantastic timing
Don't Let the Looks Fool You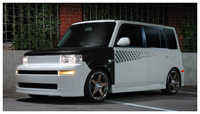 Of course, Toyota fell into the Infiniti trap of strange names with no vowels – Scion today has three models, the xB, tc and xD.
But the timing of this new car is so great, because of its real size, and value of its interior space along with good fuel economy. Read more