Can Chrysler up their game by adding a hybrid division
Everyone is doing their part to preserve the environment, even the auto industry. Although they are dragging their feet for the cause, it seems like they are slowly realizing that they are going to have to take strides to clean up the planet and offer consumers alternative options to the gas burning engine.
Known for their larger cars and trucks Chrysler has some work to do, however if they can perfect the hybrid truck or SUV they will have a corner of the market as yet unconquered.

The Envi Division
Not only is Chrysler taking steps to give consumers more choices, they are straying from the heard and attempting to build alternative fuel vehicles from the ground up.
Unlike many of their competitors who are simply adding hybrid parts to existing models, the Envi division is committed to actually coming up with new and improved ways of building new and improved vehicles.
Hybrid models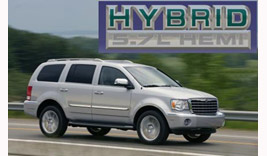 The first two models that Chrysler plans to announce as hybrid options are actually modified versions of existing vehicles, the Chrysler Aspen and the Dodge Durango SUV, both due in 2008.
The actual Envi division models built from scratch are in the works right now and hopefully we will be seeing them in a few years.
This is a great step forward for our planet and for our future, it is important that we continue to strive for alternative fuel sources and we applaud Chrysler for such forward thinking.
Check out our article on Chrysler's new logo here.