In a move that should make American motorists go "Hmmmmm," Reuters reported in late August 2008 that two separate investors from the Gulf Arab region are showing interest in buying the Hummer brand from General Motors.
The Hummer has become a lightning rod for attention since people started taking global warming seriously, and in light of record-high gas prices.
People Actually Want Hummers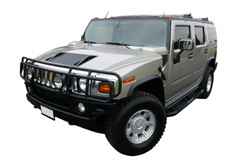 So why not sell it to someone from an area that controls oil production and gas prices?
If a sale goes through, the more Hummers sold, the more gas guzzled. Read more