In May 2008, an amazing thing occurred in the automotive industry: the Honda Civic was declared the best-selling vehicle in America.
For eons, it seemed, Ford's F-Series trucks claimed the throne.
No longer. Consumers have reacted strongly to rising gas prices and are going smaller. No surprise there.
Honda's Small Car Strategy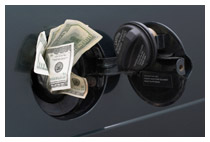 What also is interesting is how seemingly stubborn stance to stick with its smaller, fuel-efficient cars – and void dabbling into the big truck or sport utility markets – is now paying dividends.
The Detroit News reported on June 11 that while the overall automotive sales market shrunk 8.4 percent in the first five months of 2008, Honda sales were up 4.8 percent.
Sales would even be more robust if the Japanese automaker would – perhaps, could – deliver more. The Honda Fit with its 33 to 34 miles per gallon are awfully popular in the homeland and Honda is busy working to meet demand.
In 2008 alone sales the Fit is up 64%, Civic sales by 20.5%. The world's misery with gas prices is a bonanza for Honda.
And that does not take into account the 17.5% increase in Civic hybrid sales.
Honda's Bigger Side
It's no surprise that Honda's larger offerings, such as the Ridgeline, are not selling well.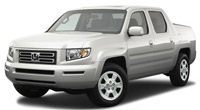 Which larger vehicles are?
The key is the level of focus Honda placed in recent years in refining and marketing the larger cars and trucks.
While other automakers hurried to cash in on the SUV craze, Honda stuck to its business model and continued to focus on reliable, economical cars that maintained good gas mileage.
Good call, and Japanese rivals are learning the hard way. 
Toyota and Nissan both make plenty of fuel-efficient vehicles, even in their bigger models. However consumers today tend to see only the size of a car, and not just mpg figures in window.
Both Toyota and Nissan have slowed production of trucks this year – and even Honda is having a hard time with the truck and SUV models it builds.
The CR-V crossover has been a hard sell, indicated by bumped sales figures for the midsize Accord. Former SUV owners may want to go smaller, but not tiny, hence a preference for the Accord sedan over, say, the Fit.
Accord sales are up 9.4% this year.
And Still Going, and Going, and…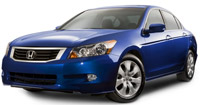 Honda claimed 20% of Car and Driver's 2008 10 Best Cars List, with the Accord and Fit claiming spots. Interestingly Honda also took 20% of the 5 Best Trucks list, with the Odyssey claiming a place.
The success has challenged the company to keep pace. Demand has been heavy, and some industry insiders question whether the company will be able to deliver enough models in the traditional selling season, over the summer.
For instance, www.autoblog.com reported in June 2008, "Honda has been caught by surprise by the sudden shift in demand to smaller cars."
Production of Honda models for American consumers is limited because the company can only build so many cars. For example, its current U.S. infrastructure allows it to build only 500,000 Fits a year for the whole world.
A nice problem to have. Overall, Honda's strategic decision to stay small has positioned the company in envious state – selling cars at a frenetic pace when most automakers are cutting back production.