Blame high gas prices, the economy, global warming – whatever, the truth is today in mid-2008 few people are spending money. 
Businesses are noticing and reacting.
Making Headlines
A cursory view of recent headlines involving auto dealerships offers a glimpse.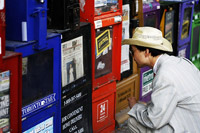 Giving away gas cards with car sales has become so common, some dealers upped the ante.
Here are some of the offers out there
A Missouri car dealer has offered car buyers a free handgun or a $250 gas card
In the Orlando Sentinel, a Florida dealership offers a years worth of gas with purchase
A Suzuki ad offers $470 worth of gas for the summer with new car purchase
A Chrysler dealership was seen offering gas for $2.99 a gallon for three years with some of their models
The car sales industry is following a growing trend by getting creative to keep their share of the market in a falling economy. Read more