Call them the underdogs of the hybrid vehicle movement, not many people know about them, but everyone should.
Some people who drive flex-fuel cars know they are saving gas but they don't always know that they are in a FFV.
Luckily, their production and use is slowly picking up in the United States.
What is A FFV?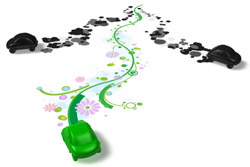 The official name is flexible-fuel vehicles, or dual-fuel vehicles, for obvious reasons. They are alternative fuel cars using multi-fuel engines burning on gas and a second fuel source, most often ethanol. Read more