Ever fancy driving a restored British junk car? If not, it is time you found out how to find and purchase a stunning restored classic sports car that won't let you down. Best of all, you can purchase any of these old British but excellently restored junk cars for less than the price of a standard family car. So if you are fed up with driving that monotonous family coupe, then why not buy a restored classic sports car?
Why buy a restored junk car?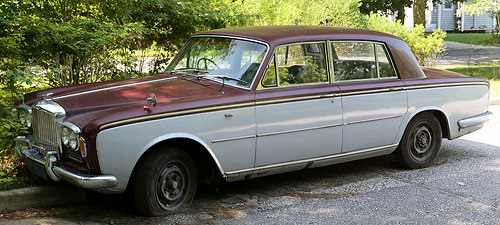 Getting behind the wheel of an old classic car is what we call a real and proper driving experience. With these cars, you won't find your relationship with the road being hampered by air-conditioning, ABS, power-steering or any of the many technical additions that make driving a modern vehicle such a boring experience.
There are a number of classic car dealers that buy British junk vehicles from all over the world that have seen better days with sole intention of restoring and them selling them. It gives them the pleasure to rescue junk but functioning cars that are on the verge of a one way-trip to the junkyard, and restore them to their formal glory. Who among the enthusiasts wouldn't want to own a fully restored British classic sport cars and drive it around?
The best place to get these types of cars is online as there is an assortment of different models on display. But before buying any of these cars from online junk car dealers, there is a buying guide you need to pay attention to. Here is how to go about buying a fully restored but classic British sports car form an online junk car dealer.
1. Never purchase a junk car without seeing it
Start by paying a physical visit to the dealer's junkyard. Remember to take a good mechanic with you and arrange for the car to undergo a proper pre-purchase check. In this country, all the main motoring organizations carry out or can help a purchaser to arrange for this type of a car check.
2. Be realistic upon getting the pre-purchase check results
No matter how great a junk car looks, it is bound to have one or two mechanical imperfections. Furthermore, the car has seen better days and so all things mechanical can not be as they used to be. But as long as the car is legal, free of major mechanical problems and safe to drive, little mechanical hiccups shouldn't deter an enthusiast from acquiring his dream ride.
3. Examine the main key areas in an old automobile prior to signing the purchase documents.
The four main areas to be thoroughly examined before a purchase are the engine, the interior, the exteriors (bodywork) and the paperwork. It is crucial to check that the car has a valid MOT roadworthiness certificate and vehicle registration document. If the seller can't show these documents, then do not purchase the car no matter how roadworthy it looks or beautiful it is.
4. Test drive the car before signing the purchase agreement
This is to enable you to feel its overall handling and performance. The seller should accompany you during this test drive so that if there are questions, they can be instantly answered.
Once the final signature has been on the purchase documents, take time enjoy your new ride. Have a number of leisure drives, days out and picnics so as to make the most out of your new acquisition!