Watching the automotive industry try to "catch up" on its environmental public image is like monitoring the progress of land developers for the past 25 years.
With a product intrinsically unfriendly to the environment, carmakers are trying hard to convince consumers that their vehicles are indeed "green."
Green Business is Here To Stay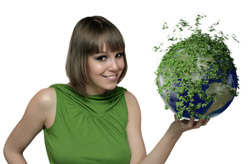 Over the past few years the automotive industry seems to have made a full commitment to the green movement, pushed – not merely nudged – by factors such as consumer demand, the widespread global warming debate and gas costs.
The same could be said for land developers starting in the 1970s, as urbanites and suburbanites began protesting subdivisions based on ecological principles. At first many homebuilders just worked harder to get the votes needed to approve projects.
Ultimately many bowed to public pressure and chose to work with neighbors and present amenities in the form of open space areas dedicated to recreation or buffer zones, and monetary gifts to communities for public parks and roadways.
In other words, it took a few years, but the development community began "going green" years ago, taking it further with measures such as solar-powered homes, use of water-saving landscaping, and more.
Both industries face the same challenge, with products not easily deemed environmentally healthy.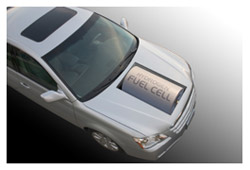 How Far Will the Industry Go?
The environmental sensitivity of carmakers is evident in numerous media stories today. Increasing sales of hybrids can be seen by merely looking around the roadways, particularly in populated areas commanding commutes.
Stories of technology abound, such as the new BlueTec by Daimler AG, maker of Mercedes-Benz.  The BlueTec systems aim to reduce nitrogen oxide (Nox) emissions in diesel engines, which in turn will reduce pollutant emissions.
Mercedes-Benz making headlines for reducing emissions?  Don't be surprised.
Officials at performance-focused BMW have set sights on building a green brand perception; and formerly muscle car-addicted General Motors has built a green concept for its Hummer and Saab brands.
A green Hummer?  Looking beyond existing brands, GM is working on its new all-electric Volt, hoping to unveil it in a few years.
It seems any and all avenues are being explored – turning biomass into ethanol for power; hydrogen fuel cells; batteries like those that power computers; solar roof panels to recharge batteries; you name it and automakers are working on it.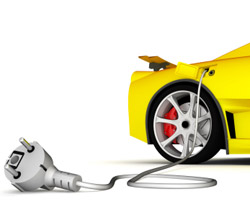 The Green Car Market – What's Next?
The recent North American International Auto Show (NAIAS) in Detroit is like winter meetings in baseball or pre-draft in other major sports; they offer a sneak peek at what can be expected in the season to come.
The same can be said of automakers at NAIAS. Everyone from Ford to Ferrari unveiled concept cars that indicate how each maker plans to address the green movement.  Or, in the words of many executives, environmental sustainability.
Toyota
Toyota had it's a-BAT – for Advanced-Breakthrough Aerodynamic Truck – which the company says is smaller than its Tacoma compact pickup, but at first glance looks taller and more menacing. 
Land Rover
Notoriously lumbering Land Rover unveiled its LRX Hybrid concept, motored by a 2.0-liter four-cylinder turbodiesel engine that also can run on biodiesel. 
The LRX would use a lithium-ion battery pack to store energy, and it was produced with lighter materials that the company says will not sacrifice the model's strength.
Chrysler
Chrysler's ecoVoyager is a hydrogen fuel cell car that could to up to 40 miles on its lithium-ion battery – and up to 300 miles using the fuel cell.
Ford
Ford touted two different models which are expected around 2010.
The Verve is a concept which features a fuel-efficient four-cylinder engine with direct injection technology.
Explorer America is Ford's way of retooling its sports utility vehicle. Instead of a big V6 or V8 engine, Explorer American is motored by a two-liter, four-cylinder with the company's EcoBoost direct injection. 
A turbocharger produces 275 horsepower, not shabby for a vehicle designed mostly to cut emissions and save fuel.
Ferrari
Lastly, Ferrari going green? 
Evidently, even sports car buyers have their eye on clean alternative fuels. 
The F430 would run on E85 ethanol, with a higher octane rating than gas. The bio fuel version of this vehicle presents 10 more horsepower than the gasoline version – plus 5 percent less CO2 emissions.
Keep Demanding
In the end, automakers have to make what sells. If consumers were able to change the housing development market, they can change the auto industry too.
Buying green cars is not only better for the environment, but is also the best way consumers can voice their demand for a greener tomorrow.