Summertime is a great time to head out on a road trip, see some sights and blow off steam in a weekend getaway.
What's better than doing it in a convertible?
Kelley Blue Book's Top 25 Convertibles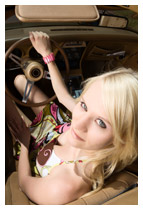 Kelley Blue Book recently listed its top 25 convertible models, starting with the pack leader, the Ford Mustang.
Some entrants are surprising, others not so much. They all bring to the table a feature or two attractive to all sorts of drivers, from more engine oomph to powerful sound systems to enjoy tunes while rolling down the highway in the open air. Read more