With U.S. auto sales in decline, American automakers have turned their focus to a somewhat unusual niche.
Certified pre-owned vehicles.
In short, when they ain't sellin' new, try sellin' used.
Automakers Selling Their Used Cars Online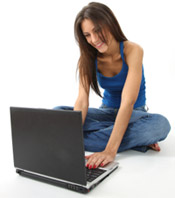 Chrysler announced in late June 2008 that it was teaming with eBay to list Chrysler, Jeep and Dodge certified pre-owned cars on the new eBay Motors' Certified Pre-Owned Showroom.
Chrysler's attempt to push more used cars is of interest, but equally noteworthy is eBay's acknowledgement of the market.
The eBay Motors' CPO Showroom is aimed at marketing franchised dealers' certified used-vehicle inventory.
It claims 12 million monthly unique visitors, and more than 15,000 late-model, fully inspected and reconditioned Chrysler, Jeep and Dodge vehicles.
They come with amenities which include
Factory-backed warranties
A free CARFAX vehicle history report
Road-side assistance
Rental car allowances
Offering warranties, car histories, rental car assistance and the like has become commonplace for the large automakers, to keep their models on roadways and help maintain brand image while making a few extra dollars.
But as the new-car market dries up, American automakers are keen on growing their share of the used-car market.
They are tapping ways to expand their reach, such as engaging enormous online companies, and even figuring ways to hinder competition.
Big Brother Always Watching?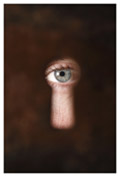 Earlier this year General Motors unveiled its UsedCarAmbush.com, which airs website video clips of what the company deems shady used car lot operators.
The intent is to attack sellers of non-certified pre-owned vehicles.
The site uses hidden camera clips to highlight the benefits of GM's certified used cars.  Such as:
5-year / 100,000-mile powertrain limited warranty
3-month / 3,000-mile new vehicle warranty extension
24 / 7 roadside assistance and courtesy transportation
CARFAX Vehicle History Report
3-Day / 150-mile "No Questions Asked" customer satisfaction guarantee
GMAC new car-like financing
117-point inspection by factory-trained technicians
The new website "reveals risks of purchasing used vehicles without manufacturer certification", according to GM's media release announcing it.
The intent is to discourage private car dealers from selling cars not deemed worthy by the manufacturer, in this case, GM.
It seems to make sense, since GM certified used vehicles are the industry's top-selling certified brand.
Even so, in June its sales were down 10% from the same month a year ago, at 36,445 vehicles.
But some makes, particularly those at the higher end, are up. Sales of Cadillac certified pre-owned vehicles, for example, were up 5%; Saab, up 10%; and Hummer, up 37%.
Brand Spankin' Used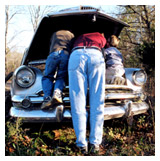 The Internet continues to play a bigger role in marketing for large American corporations. Large homebuilders, for example, are shying away from print advertisements in favor of online campaigns.
Chrysler's certified pre-owned program is marketed as "Brand Spankin' Used." Already it partners with Cars.com and AutoTrader.com.
"In today's economy, consumers are more Internet savvy and shop for quality products online", a Chrysler senior manager of certified pre-owned vehicles said.
The new eBay Motors CPO Showroom lets consumers see certified pre-owned inventory from Chrysler, Jeep and Dodge dealers within their local area, in a format similar to newspaper classified listings.
For cars to qualify and be certified under Chrysler's used-vehicle program, they must be a 2003 through 2008 model with less than 65,000 miles, and pass a stringent 125-point mechanical, safety and condition standard inspection.
They come with
Eight-year / 80,000-mile powertrain limited warranty
24 / 7 roadside assistance
$35 per day rental car allowance
Three-month or 3,000-mile Maximum Care warranty, on top of any remaining three-year / 36,000-mile comprehensive new vehicle warranty
Competition among automakers in the used-car market is blossoming.
"There's great confusion among consumers about what constitutes a certified used vehicle", said Mark Mathews, director, GM Used-Vehicle Activities. "Manufacturer certified vehicles offer new-vehicle-like benefits and financing options where others do not; private sellers being the most risky option".