Summertime is a great time to head out on a road trip, see some sights and blow off steam in a weekend getaway.
What's better than doing it in a convertible?
Kelley Blue Book's Top 25 Convertibles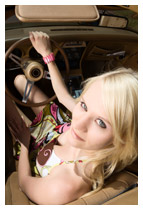 Kelley Blue Book recently listed its top 25 convertible models, starting with the pack leader, the Ford Mustang.
Some entrants are surprising, others not so much. They all bring to the table a feature or two attractive to all sorts of drivers, from more engine oomph to powerful sound systems to enjoy tunes while rolling down the highway in the open air.
The list was compiled based on interest shown from KBB website visitors, in terms of New Car Pricing reports. Basically these are the convertibles people are asking about most.
Ford Vs. Chrysler
Some say the Mustang's main rival is the Chrysler Sebring, which interestingly ranked No. 8 in the KBB list of top convertibles. The Mustang is considered more hip, while the Sebring gets better gas mileage and has more space inside.
The cars don't seem like logical competitors, but industry experts cite them as such.
The Mustang's SHELBY GT trim also carries a manufacturer's suggested retail price starting at $49,000; while a fully equipped Limited-trim Sebring can be found in the low $30,000s.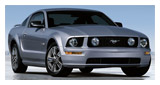 Mustang
Not surprising was the Mustang's strong showing. Ever since Ford, for the 2005 model year, went back to exterior stylings of the original Mustangs of the 1960s, the model has enjoyed a renaissance.
Ford executives called the new styling "retro-futurism," and it has proved popular with autobuyers.  For convertibles, the model comes in five trims; let's focus on the 2-door SHELBY GT500 Cobra – and its 5.4-liter V8 engine.
Where the GT's 300-horsepower V8 won't save you at the pump, but it will open eyes upon acceleration as well as on the open highway. You can imagine a summer trek through the desert to Vegas in one of these beasts.
Price is always a major consideration when the economy lulls and gas prices rage uncontrollably.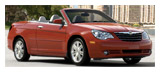 Seabring
Those interested in improving the ride should check out the Sebring's MyGIG, an optional hard drive-based system that includes:
Navigation
Traffic information
MP3 music
A high-speed USB port
Voice recognition
Voice message recording
Bluetooth hands-free cell phone connectivity.
A rear-seat DVD video system is icing on the cake.  Ask about its dual headphones and audio and gaming capability.
Added in 2008 was an all-wheel drive Limited trim, and standard features including a six-disc compact disc player and Sirius Satellite Radio.

Eos
Surprising on the list of top convertibles is the Volkswagen Eos, which comes in six trims – all with hard tops. Of interest in how VW integrated a glass sunroof into the top of this new four-seat convertible for the 2008 model year.
Glass sunroof in a convertible?  What's the world coming to?
It isn't your parents' Volkswagen when the MSRP starts at nearly $30,000, and can jump to the $40,000s with all goodies. But VW went all out with the Eos and it appears to be paying dividends.
Added for 2008 was a standard, powered, 12-way driver seat. Front passengers also will appreciate the tall front deflector that extends from the top of the windshield frame when needed.
An optional 10-speaker, 600-watt audio system has gotten raves from industry watchers.  All told, these features make for a fine ride, and obviously the Eos has caught the eyes of those who review new cars.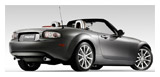 Miata
Following the Eos on the KBB list is the Mazda Miata MX-5, the Saturn SKY, Mini Cooper, Pontiac Solstice and Toyota Solara.
The Solara was noted for its slick coupe styling, plus a large back seat and the brand's reputation for longevity.  Resale values carry a lot of weight nowadays.
A drawback is fans of the clutch: few trims come with manual transmission.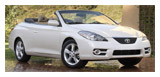 Solara
A new Toyota Solara convertible can be had for just less than $21,000. For modest price bumps you can add a V6, or a Sport trim.
Compare a Solara with all bells and whistles, priced up to a high of $34,000, to some of the convertibles mentioned above and you can see why Toyota keeps tinkering with the concept.
Today people value strong products with, well, value. Toyota knows what it has with the Solara – even moreso with a convertible trim.