Time Magazine's Worst cars of 1982-1984
Time Magazine tackled a monumental task by narrowing down the worst of the worst vehicles ever made. They compiled a list of 50 Worst cars of all time broken down by the years they were produced.
Here is the eleventh installation of articles targeting the bottom feeders of the automotive world.
Cadillac Cimarron 1982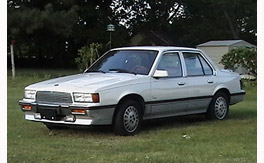 Image from Time
Just an ugly car all around, in theory the Cadillac Cimarron was built as a Cadillac for the common man, but in reality the Cimarron was more like an insult.
GM was pressured into making a smaller version of their cars by the presence of well-built medium-sized vehicles imported from German car makers like Mercedes. Read more