The most popular and best selling trucks
This series is dedicated to showing you the most popular and best selling cars, trucks, SUVs and minivans out there. The used vehicles people can't seem to do without.
This section is dedicated solely to the trucks, we will give you a some information about each one to get you started on your research.
Jeep Wrangler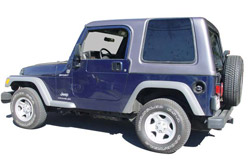 Image from Rally Tops
As iconic as a tough guy, the Jeep Wrangler has been around since 1987. Although the basic model has morphed into many different trim types and special editions, the basic principles apply.
A Jeep can crawl over almost any surface out there, and they take a licking and keep on ticking.
The Wrangler has taken on a cult status among off-roading communities and has even earned itself it's own commandments.
These tough little trucks have earned their spot on the best selling lists and will truly never go out of style.
Ford F-150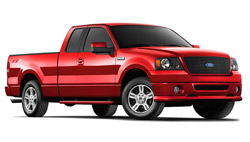 Image from All Car News
It is a given that Ford's F-series should be on the best selling lists, after all Mr. Ford created the whole idea in of trucks in America.
The F-150 has been the best selling vehicle in the United States for the past 23 years, and the best selling truck for more like 30.
In fact, the sales of the F-series pickups makes up close to half of Ford Motor Companies profits in the past few years.
The F-series began it's run in 1948 with a pickup known as the Ford Bonus-Built, a pickup truck built as a truck and not based on a car platform. This truck has continued to make a name for itself since.
Toyota Tacoma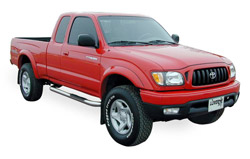 Image from Runningboard World
First built in 1995, the Tacoma filled a niche for a sturdy, sharp looking compact pickup truck. It did it's job so well that Motor Trend Magazine named it Truck of the year in 2005.
Toyota is known for their well-made vehicles that run forever, and at the moment the Tacoma is among the top selling new and used trucks out there.
Not only is it tough, but the Tacoma is eager to please, offering many different body styles and a solid off-roading ride.
The Tacoma may cost a little more than most pickups in it's class, however most Toyota owners will tell you that their Tacoma was worth it.
Chevrolet Silverado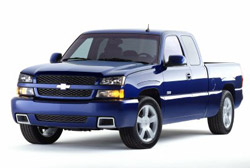 Image from The Auto Channel
Just behind the F-150 in volume and size the Chevrolet Silverado is another best selling pickup truck. In fact, Chevy's Silverado sales almost matched the F-150 sales in 2007.
The Silverado has been made since 1975 and has continued through the years with very little changes aside from aesthetic upgrades and option packages.
They say 'If it ain't broke, don't fix it' and that seems to be what Chevy has decided about this popular truck.
One of the first pickup trucks to venture into hybrid territory, the Silverado was offered as a hybrid in 2005. So popular is this truck that GM made it their first hybrid vehicle.
Check out our section on hybrid vehicles here
Toyota Tundra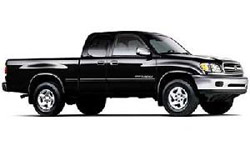 Image from Auto Buy Guide
The Tundra was built to replace their full-sized T100 and is Toyota's answer to the full sized pickup truck.
This is second Toyota on our list, and that says something about their craftsmanship and longevity in the market. the Tundra is a full sized pickup truck that lasts.
Released in 2000, the Tundra was nominated for North American Truck of the Year award, and Motor Trend's Truck of the year in it's initial year.
It's popularity with the big names of the automotive industry has not gone ignored, the public agrees that this pickup is a good one.
Jeep Grand Cherokee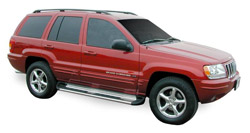 Image from Runningboard World
The second installment on our list of best selling used trucks is from Jeep, the Grand Cherokee is an old favorite and it's presence on this list is no surprise to us.
A big brother to the Cherokee jeep, the Grand version emerged in the early 90's and was an attempt by Jeep to bring their utility vehicles into two car garages in the suburbs.
By enhancing options and making the cab larger and more comfortable, Jeep developed a stylish vehicle without sacrificing it's capable nature.
The Grand Cherokee is the only SUV allowed on our best selling list for trucks, because although it is an SUV in theory, in it's heart truly it is a truck.
Be sure to check out our other installments:
best selling SUVs and Minivans too.
Best selling used cars pt. 1
Best selling used cars pt. 2