The end of spring means graduation season – and parents wishing to give something special to sons and daughters for completing years of studies.
What says "Good job!" better than a brand new car?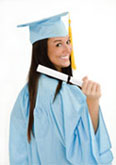 What to Buy Your Graduate
Gift suggestions for recent grads are all over the media. 
The newspapers and even television executives understand the profitability of this a season.
Advertisers will pay big bucks to promote sales and deals around tassel time.
A relatively brief perusal of recent news provides insight into which type of car is best for fast-growing young adults. Read more