With cars, conventional wisdom would suggest that women prefer safe vehicles, while men are drawn by power.
This generality is not always the case.
Safety and reliability are high on every car buyers list, man, woman, single or married.
More Than Just Consumers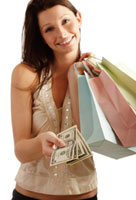 Women have been instrumental within the auto industry when it comes to safety. In fact, it was first lady Elizabeth Dole whose suggestion resulted in the first use of the rear-window brake light.
Not to mention that a woman invented windshield wipers.
Women also desire power in a vehicle, enough to trust over mountains, and to haul what is needed to get from place to place. They are also aware of style and color when selecting a vehicle.
Their choices are vital to the industry: estimates show women spend more than $65 million on new cars and trucks, and they influence 85% of all new car purchases.
The auto industry is not just for men anymore, women motorists help drive the industry now.
Men Ignored in the Market?
Not long ago, 30 percent of all cars sold were sports utility vehicles. People were quick to attribute that to "Soccer moms."
That is a fallacy. Those forgotten on the list include soccer dads, the dudes who off road on the weekends, coaches and plenty other types of men who need more space than a sports car provides.
Carrying a lot of cargo doesn't instantly mean minivan.
A Woman's Hand on the Wheel
Now that the SUV's heyday is fading, figures indicate that women are pushing the industry when it comes to sales.
For instance, the Mazda Miata has been popular with women in recent years according to surveys.
Mainly for those without children, the Miata is fun to drive and gets above-average gas mileage – two strong selling points in today's market.
Gender Specific Marketing
Studies today show the "fun-to-drive" aspect is very important to women in purchasing vehicles. It's not about hauling kids and cargo to the next soccer practice, it's about enjoying their vehicle.
Forbes in late 2007 reported that 93% of truck buyers are men. On the other hand, women often choose models by Honda, Saturn, and Volkswagen
Why is this?  Some of it is marketing, of course. 
Who hasn't heard the term "Built Ford Tough"? This is a campaign you hear during National Football League games, not "Desperate Housewives."
But is that all there is to it?
Cars Made for Women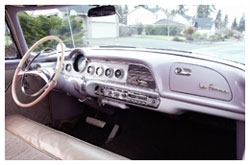 In the early 1950s, Dodge introduced the La Femme, at a time when women started buying more cars.
It had pink, flowered upholstery, and came with a matching purse, raincoat and umbrella. Seriously, the La Femme had lipstick holders, (no, we're not making this up).
Strangely, Dodge inserted a 218-horsepower V8 engine. The model quickly fizzled, selling only about 2,500 units.
The saying then is the same today: you have to try to sell a car to boys and girls.
Image from Dodge La Femme
What Women Want
That said, a look at the most popular cars for women today offers insight into, what the farer sex looks for in their transportation.
The 2007 J.D. Power and Associates 2007 Automotive Performance, Execution and Layout Study indicates the top five factors women look for in a car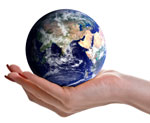 1. Reliability / durability
2. Interior comfort
3. Exterior styling
4. Quality of workmanship
5. Gas mileage
This particular survey was taken in 2006-07, we expect that in 2008 gas mileage will hold a much higher priority.
The same survey revealed which car features women like most
Power lift gate/trunk/hatch
Sunroof
All-wheel drive
Remote engine startup
Bottle holders in door panels
This makes sense when you consider which brands make models found to be popular among women.

Volkswagen
The Jetta is a compact sedan with plenty of style, performance and leg room. Plus it is estimated that 65% of buyers of the new Beetle convertible are female.

Nissan
As practical as it gets, the Nissan Sentra is a compact that offers great gas mileage combined with peppy acceleration.

Honda
The Civic is an old favorite, they are fun to drive, reliable and economical. A newer addition to the Honda line, the Fit is a subcompact designed for manuverability in the city while getting great gas mileage.

Ford
Their Focus has a tall, upright driving position, a roomy interior and an ample trunk.
The Ultimate Goal
Eventually as the greening trend continues smaller cars will come into vogue. The gas guzzlers will be phased out, mainly because they will become too expensive to operate.
Regardless of your gender, the car market should cater to you as a consumer. Today's market is just as driven by women buyers as it is by men.