The end of spring means graduation season – and parents wishing to give something special to sons and daughters for completing years of studies.
What says "Good job!" better than a brand new car?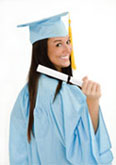 What to Buy Your Graduate
Gift suggestions for recent grads are all over the media. 
The newspapers and even television executives understand the profitability of this a season.
Advertisers will pay big bucks to promote sales and deals around tassel time.
A relatively brief perusal of recent news provides insight into which type of car is best for fast-growing young adults.
Mini Cooper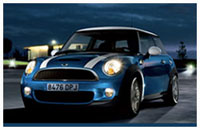 It's easy to see why Ma and Pa would think Mini Cooper, with its retro styling, and phenomenal fuel economy. 
Junior may be hitting the real world, with real paychecks, but gas prices weigh heavily and the Coop gets 28 miles per gallon in the city, and 37 on highways, wth its 1.6-liter four-cylinder engine.
That's great for a small car, but what if marriage and a family are not far away? Plus, of course, the $18,700 or so it takes to get a new Mini Cooper could also sway decisions.
Ford Focus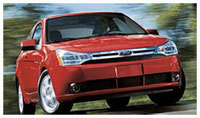 In 2008Ford increased production of its Focus, and it's easy to see why. 
Along with 24 miles per gallon in the city and 35 mpg on highways, its $14,300 base price is a nice, affordable vehicle to drive them into their new life.
The Focus also carries features that those in the X, Y or Z generations can appreciate, such as Microsoft's SYNC that lets drivers operate an MP3 player by voice command.
Mazda3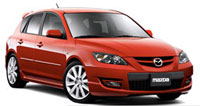 The Mazda3 is similar and equally popular. 
A $14,530 base price and 24 miles per gallon in the city and 32 on highways helps.
Plus the model has proved reliable, and parents can choose from nifty options such as Sirius satellite radio, a seven-speaker Bose sound system, and a sunroof.
Pontiac Vibe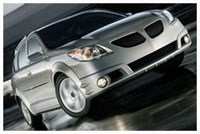 For the killer sound system without the extra cost, think Pontiac Vibe. 
Standard is an AM/FM sound system with XM satellite radio and compact disc player. All for a base $15,895.
There's also peace of mind in knowing Junior is driving a car with a stability control system that communicates with the anti-lock brakes. 
At 26 miles per gallon in the city and 32 on highways, the Vibe can wow buying parents.
Honda Fit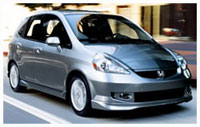 For $16,070, the Honda Fit's Sport model with automatic transmission is not too far beyond the budget, and its Formula 1-related aspects can make any graduate smile.
Honda used features that come from the company's Formula 1 racing program, like a steering wheel-mounted shifter, and variable valve timing.
 Gas mileage also is attractive, at 28 in the city and 34 on highways.
Volkswagen GTI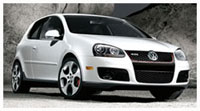 For a $22,800 base price, the Volkswagen GTI MkV delivers 200 horsepower and 21 miles per gallon in the city, 29 on highways through a manual transmission.
It also goes 0-60 miles per hour in 6.3 seconds.  This is not your grandfather's Volkswagen.
Choose from a three-door or five-door hatchback, and notice some luxury features. Show your son and daughter what they have been working so hard to achieve.
Making Tough Decisions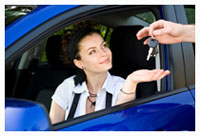 Heading out into the "real world," young adults will learn how to make the best life choices. Parents trying to reward them with new cars will go through a similar experience.
Do you go for the best price?  Or safety, or fuel economy, or…something else?
The key is in the research. You know what is important to you and what is important to your graduate, with all of the options available, you should have no problem meeting somewhere in the middle.