Two blondes from California were in the midst of a 300-mile drive to a ski resort, in a six-year-old Toyota Camry sedan, maintaining a steady 80 miles per hour.
The younger blonde said, "Listen to that, the engine just purrs like a kitten."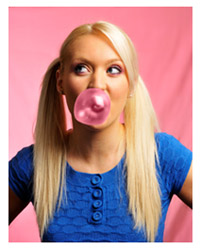 The older blonde, driving, said: "Imagine how it would sound if I changed the oil or even popped the hood the past year!"
Nothing Has Changed
That was in the mid-1990s. It seems Toyota's midsize sedan just keeps getting better, and has solidified a reputation for a quiet ride and reliability.
This is good news if you're selling your Camry, because the word is out that a used version is a good, reliable investment for mid-level buyers. 
Award Winning Camry
In Consumer Report's 2007 survey of used model years 1998 through 2007, chose five Camrys in its list of "The best Used Vehicles for Under $20,000."
The Camry models that won
2003 for the $10K to $12K category
2004 for the $12K to $14K category
2005 and 2006 four-cylinder for $14K to $16K category
2007 four-cylinder for $18K to $20K category
Further, Edmunds.com listed the Camry's 2000-2005 models as the best used midsize sedan. 
Edmunds.com wrote this: "Fine build quality, legendary reliability and a hushed ride characterize the Camry."
The honor was based on reliability, safety and availability.
Toyota redesigns the Camry about every five years, with the most recent changes in 2007. The Japanese automaker must have done a good job – the Camry was Motor Trend's Car of the Year for 2007.
Toyota Camry – Starting Fresh
Image from O My NYC
The Camry first surfaced in America in 1982, and since then has established a stronghold in the automotive world.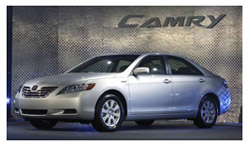 This vehicle features a roomy and comfortable interior for a midsize, and outside it's pleasing enough to the eye for a family sedan.
Dependability may be its biggest strength, and it doesn't hurt that newer models get you 20 to 30 miles per gallon in fuel economy. 
On top of all that, the Camry has always been affordable.
The model was unveiled modestly as a compact with only a four-cylinder engine. However high demand triggered Toyota to change the model to a midsize and expand options such as: a V6 engine, several trims, and multiple features.
The Camry has been the best selling car for nine of the past 10 years, starting in 1997; the only exception was 2001.
Ultimately the Camry became so popular that Toyota opted to produce vehicles in America, and the Georgetown, Kentucky plant for Toyota was a trendsetter.
The Camry and NASCAR
Image from Autobytel
Something that won't hurt Camry sales, whether for new or used models, is its new involvement as a NASCAR racecar. 
The company enters the Tundra truck in the NASCAR Craftsman Truck Series, and the Camry in the Sprint Cup Series and the Nationwide Series.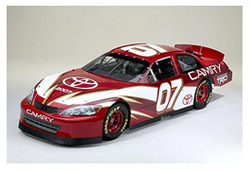 Entering races can't help but boost the Camry's visibility among motorists and car buyers – another plus if you're selling or buying a used Camry.
In recent years Toyota focused on adding amenities consumers most desired, such as safety features like side airbags and antilock brakes. 
Again, the Camry is mostly a family car, and the mother company is smart to add features attractive to parents.
Buying or selling a used Camry, you can have peace of mind seeing anything up to 180,000 miles on the odometer – maybe even more.  From there it's just a matter of the price you're comfortable with.
A 1992 model can go from just over $2,000 to $3,100; a 2007 model runs from about $15,500 to more than $23,000, depending on features and condition.
The whole world can't be wrong, its obvious why this model is so easy to buy and sell.