Ford might now own Volvo, but one thing hasn't changed for the Swedish brand: a reputation for automobile safety.
Interest in improving driver and passenger safety in cars increases every year. Things like side-impact safety curtains were unheard of only a decade ago.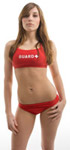 Sweden – Cutting Edge Safety
In fact recently, according to Reuters, the head of traffic safety for the Swedish road administration said we now are in the "biggest revolution in the auto industry since the seatbelt."
And Volvo is at the forefront. The same news article stated Volvo's plan to create an "injury-proof" car by 2020. Some industry analysts view the announcement as the company's attempt to maintain its high level of consumer perceptions regarding safety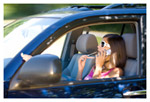 Now, the concept may be dangerous to reckless American drivers. After all, if an automaker states that its vehicle is "injury proof," you know some knucklehead will test it.
But the thought is interesting and offers a good platform to discuss auto safety, and Volvo's history with it.
Safety Through The Years
Volvo's history regarding passenger safety is well documented. Laminated glass in car windows was introduced with the PV model way back in 1944. 
Motorists certainly were impressed with windows that wouldn't cut you up when they brake.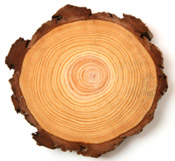 The modern three-point safety belt was patented by a Volvo engineer in 1958. A year later it was standard on all Volvo models.
The first rear-facing child car seat was introduced by Volvo in 1964. The company unveiled its own booster seat 14 years later.
That third brake light mounted at the top of your rear window? Blame Volvo. 
It introduced it in 1986, and the U.S. government mandated it for all new cars that same year.
In 1995, Volvo was the first to install side airbags as standard equipment in all models.
The 2007 Volvo S80 is one of five vehicles that received the highest rating possible, five stars, in the government's front, side and rollover crash tests. The flagship of Volvo's sedans comes with leading-edge safety features.
Today's Models
Today, the V8 all-wheel drive comes with Volvo's Personal Car Communicator (PCC) security package as standard. Nice touch, boosting engine power along with safety features.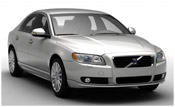 The PCC allows a driver to review the security level and learn whether the alarm is set, before getting in their car. Plus, a heartbeat sensor warns if a person is hiding inside!
Of course you pay for that peace of mind…the manufacturer's suggested retail price for a 2008 Volvo S80 4-door sedan is $49,955. 
Today's carbuyers certainly must make tough choices, such as whether to go smaller and save a chunk of change in gas costs, or pay the premium for a safer ride.
Follow the Leader
Other carmakers are not far behind. Many, including Volvo, are using aviation-like systems to prevent automobile mishaps before they occur. Use of radar in today's new cars is not unheard of.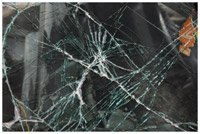 Ford is now adding safety features in their models from the Volvo division.
In the simplest terms, automobile safety is avoiding car accidents and minimizing the harmful effects of mishaps to human life and health.
The industry's attention to the matter is a no-brainer. Despite all auto safety improvements through the years, traffic injuries still represent about 25 percent of injury-related deaths in the world, with an estimated 1.2 million deaths as of 2004 according to the World Health Organization.
On top of that, there were 50 million car-crash injuries.
Automotive history is littered with safety breakthroughs – and many different automakers can claim credit.  Among them:
General Motors performed the first barrier crash test in 1934.
SAAB in 1949 applied aircraft safety engineering and produced a model with a safety cage.
The Mazda RX-8 was the only sport utility vehicle to get a 5-star rating by the NTSB in June 2004, when SUV rollovers were commanding headlines.