August 1, 2008
California's new hands-free mobile phone law has been in effect a month now, and media reports outline some interesting consequences.
First, there's the cheaters. "I looked to my left, and there was a dark-haired woman driving a gray SUV with a towel draped over her head", wrote a Bakersfield Californian columnist on July 30.
She was talking on a cell phone, trying to hide from authorities.
The Text Messaging Phenomenon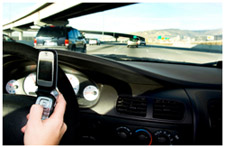 "I've learned one thing: It may be time to change my service plan", the same columnist wrote. "I'm making 90 percent fewer phone calls. I am, however, texting like a high school girl."
There are reports that text messaging while driving is even more dangerous than talking on the phone.
The same lawmaker who proposed the new hands-free law already is legislating to ban text messaging while driving.
Others report that Californians are using their mobile phones less, and driving better. Incoming calls to mobile phones are being ignored.
"Not having a Bluetooth, I find myself ignoring phone calls while driving. This makes me feel virtuous. I can't take your call because it's against the law", the columnist wrote.
And Bluetooth devices are flying off shelves. 
The Mother of Invention
It seems that California's new law is doing it's job and making the streets of California a safer place.
"In July 2008, California and Washington joined New York, New Jersey, Connecticut, and Washington, D.C., in banning the use of mobile phones with your hands while driving. In California the law was no surprise, as it was passed several years ago and lawmakers gave plenty of lead time to explore communications options inside your vehicle."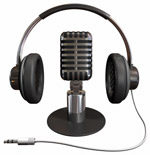 California drivers are going to continue to see options to help them abide by the law, beyond Bluetooth wireless hands-free contraptions.
The California Department of Motor Vehicles (DMV) offers general information about the law, but steers clear of offering motorists any options.
Inventors are trying to fill the gap. For example, on July 29, the U.S. Patent & Trademark Office reported the registration of an invention to provide "A small-footprint hands-free speakerphone apparatus (that) includes a loudspeaker, at least one main microphone, at least one reference microphone, and openings for receiving sound."
"The apparatus may include one or more interface units to provide interface to external devices", the report stated about the invention by Fortemedia Inc. or Cupertino.
Will such inventions put a dent in Bluetooth's domination of the market?
Bluetooth, Texting and Drawbacks
Los Angeles, San Francisco, San Diego and Sacramento topped all metro markets nationwide for Bluetooth wireless headset sales in July.
It wasn't just the law, industry analysts said, but also a love by Californians for technology.
But the law holds a hammer, too. First-offense fines are $20, with subsequent offenses at $50. Add state penalties and processing fees, and tickets range from $76 and $190 respectively.
Not everyone is keen on Bluetooth wireless as the ultimate solution. A University of Kansas phsychology professor in an article on Salon.com July 25, 2008 said:
"People are led to believe that as long as they have their Bluetooth wireless headset they're safe, when in fact they're probably at more risk, because now that they think that they're safe they're probably going to make more calls and be at risk for even greater periods of time."
Those not technologically inclined, or who cannot afford wireless mobile phone contraptions, continue to either ignore incoming calls inside the car, or try other automobile communication techniques.
Text messaging is an option, but the media and lawmakers are already onto it.
Automobile mishaps nationwide have been blamed on texting. Four states already have outlawed sending or viewing text messages while driving, and California and legislatures in 13 other states are weighing bans on driving and texting.