In July 2008, California and Washington joined New York, New Jersey, Connecticut, and Washington, D.C., in banning the use of mobile phones with your hands while driving.
In California the law was no surprise, as it was passed several years ago and lawmakers gave plenty of lead time to explore communications options inside your vehicle.
A Long Road

Motorists did not plan well. What we've seen so far is just fewer people talking on their phones in cars – as if they had no better solution than to screen calls coming in and pull over as soon as possible to respond.
What went wrong? Well, cost, and simply the unknown of using hands-free devices, resulted in procrastination.
Small fines haven't helped. Many motorists will await their first-offense $20 fine before going hands-free. Some even will pay the $50 fine for each subsequent offense.
By that time it would seem logical to investigate going hands-free, and avoiding getting pulled over repeatedly.
California's law holds certain peculiarities, such as not applying to commercial truck drivers. Likewise, Washington's, which makes a handheld mobile phone a secondary offense. Drivers can only be cited if pulled over for another violation.
Still, motorists in affected states should explore solutions. What's out there?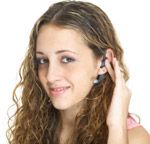 Useful Bluetooth
So far Bluetooth is making out with all the new hands-free laws, a short-range wireless communication technology.
Most popular so far are Bluetooth headset that fits over an ear. Such headsets work with a Bluetooth-compatible phone so calls can be engaged hands-free, or simply by pushing a button to answer or end a call.
This option is attractive because it's not specific to a car, so it can be used if you drive multiple vehicles.
It also can be used outside a car. You can get one as affordable as Nokia's BH-100, at around $50. Other products are within the $150 range.
Automakers Going Hands-Free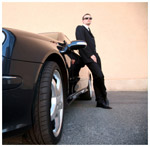 Bluetooth has been used as a marketing tool for new cars for several years. Motorists who preferred safety over waiting for new laws took advantage.
Bluetooth can be a standard or optional feature in several new models. Initially it could be considered a toy of the wealthy, arriving only in high-end cars.
Automakers are starting to install the technology in more affordable vehicles. Nissan in particular has gotten the bug, making it standard in some Sentra trims, and optional on its Versa.
To help brand their vehicles some automakers invented names for their systems, such as UConnect in Dodge and Chrysler, or Hands-Free Link in Honda and Acuras.
Some of Your Bluetooth Options
If built-in wireless technology is not among your top features for purchasing a new car, automakers, technology companies and even car stereo manufacturers are trying to give motorists options.
You can get a Bluetooth kit to permanently attach it inside your car, or a portable kit you can use in any vehicle.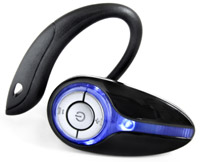 A hard-wired kit means not worrying about leaving it in the wrong car, losing it entirely, or running out of power. Some come with neat features.
Parrot's 3200 LS-Color costs $249, plus installation, and has a color screen that could show photos to identify callers.
Portables usually cost less and come with fewer features, but can more easily be moved from vehicle to vehicle.
They often plug into a cigarette lighter to run right off the car's battery, lessening worries that you'll run out of power on the road.
Some run on rechargeable batteries, such as the Sony Ericsson HCB-150 Bluetooth speakerphone, for $199.
Car stereo manufacturers are getting into the act, producing Bluetooth adapters, or even radios with the technology built in.
Whichever route you choose, it will be yet another cost to your mobile phone system, or car. But it appears hands-free laws are here to stay, as several other states already are weighing similar restrictions.