Your child wants a BMW Sauber F1 car seat for Christmas
Lets face it, if BMW made it you know it is safe, and stylish. In fact, what kid wouldn't want to be the first one on the block with a Sauber F1 car seat?
In addition to a stylish look and supreme safety, the BMW Sauber car seat is also built for comfort and proper fit.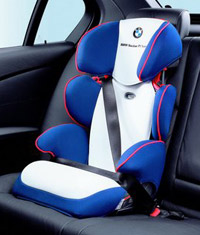 A car seat that grows with your child
This is a car seat that will grow with your child, and is built to hold weight classes II and III (roughly 3 1/2 to 12 years of age, or from 33-79 pounds). Chances are this snazzy seat will fall out of style long before your child outgrows it.
The backrest and bolsters adjust according to your child's height and offer side support and a head rest for additional stability. The seat literally grows with your child, and that's great because seriously some of them seem to grow so fast you can actually see it happen.
Great colors, great fit, great safety, whats not to like?
No matter which child seat you choose to keep your children safe, be sure to do your homework and make sure they have gotten good safety ratings. Check out our article on Car seat safety for more information.