A current saying in the real estate industry now also applies to the automotive industry: it's a great time to buy a car.
Particularly a used vehicle.
April 2008 was the first time in more than 20 years that cars outsold trucks and sport utility vehicles. It was the worst month in a decade in terms of new-car sales, down a full 7 percent from the previous year.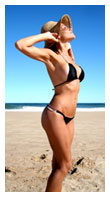 Changes in the Used Car Market
Meanwhile, since January 2008 used car prices have risen consistently, to today's $13,000 average. 
On the other hand, wholesale used truck prices have dropped from about $16,500 a couple of years ago to today's $14,000 average.
Additionally this year there was not the typical drop in gas prices associated with summer and the coming of warmer weather. Yet another reason to focus on a car and its superior fuel efficiency compared with SUVs and trucks.
On the flip side, it might be a good time to by a truck, since the demand appears to have waned, hence better prices. Think Toyota Tundra, Kelley Blue Book's 2008 Best Resale Value Award winner.
The Best Time To Buy a Used Car

Best Day of the Week
For days of the week, think Fridays.
With the weekend approaching, salespersons might be more amenable to a quick sale to secure a commission early – and also possibly get off the lot sooner to enjoy a night out.
Best time of the month
Aside from economic factors, the best time to buy a used car is the end of the month, because many dealership and lots want to clear out inventory.

Some would go a step further and say the last weekend of any month, and even Monday night if it falls at the end of the month. A lot of dealerships remain open late on Monday nights.
On these last-of-the-month weekends, dealerships often will offer an extra $100 or $200 cash to the salesperson who makes the first sale of the day; or up to $1,000 for the staff member who sells the most cars during the weekend.



Best time of the Year
Additionally there are seasonal considerations. 
It's no secret why you hear all those car sale commercials before Christmas and before the New Year.
The holidays are slow times, and the start of a new year means new models are about to come out, so, again, car sellers want to reduce inventory or older models.
Lack of Demand Means It's A Good Time To Buy
Back to the broader subject, mid-2008 is a great time to buy a car because of supply and demand.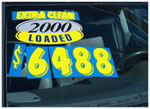 Or, to the point, demand.
For a variety of reasons – gas prices and the loan industry meltdowns high on the list – people are not spending money. Not just on cars, people aren't buying anything.
Cars are high-ticket items and don't remain high on the list of needs during an economic downturn. Basically people are hanging on to older cars longer, paying for repairs if necessary.
That means less and less cars are selling at used car lots and dealerships, and ultimately the prices are lowered to entice more sales. Similar in economics to the real estate industry.
Meanwhile American automakers continue to churn out brand new cars and pay their thousands of employees. Ultimately they need to get sales any way possible, and that means price reductions.
Indeed, this year is a great – perhaps best – time to buy a used car.