From Corollas to Cadillacs, people make some strange car art
Lets face it, people are passionate about their cars, and they are passionate about their art. It makes sense that when they are combined the passion hits an almost fever pitch. Car art in general seems to be quite eccentric, perhaps because the medium is such a large and pricey one.
Whatever the reason it gives us some cool pictures to pass along and some great stories to tell.
Someone loves Toyota Corollas, a lot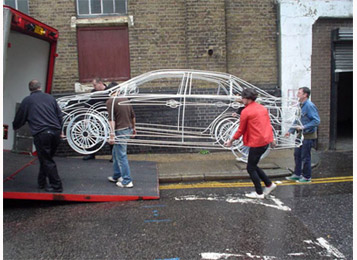 Image from hemmy.net
There are a lot of really amazing cars out there, some of them considered an art form in and of themselves. However it took the overwhelming love of one of the most popular Toyota models, the Corolla to inspire this particular art exhibit.
Benedict Radcliffe is the brain behind this funky art piece, which is a real scale model and created entirely out of wire. Radcliffe was hired by Japan's Densu, Inc. to create the life-sized wire sculpture for an ad campaign in the Middle East. A place where a lot of money builds a lot of crazy things.
The Cadillac Ranch in Texas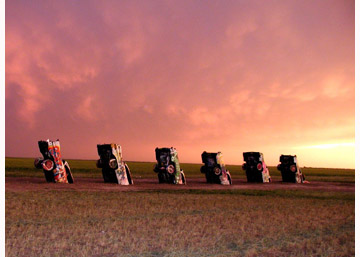 Image from Legends of America
In the small town of Amarillo, Texas a rich eccentric has planted his own Cadillac ranch, perhaps in the hopes that he would grow a Cadillac tree. Talk about strange car art, this fellow had Cadillacs literally noseplanted into the ground.
Located along the historic Route 66 the Cadillac ranch was built in 1974 by the wacky Stanly Marsh III. Opting to use Cadillac models from years that represent the "Golden Age" of American automobiles from 1949 to 1963, he literally drove them into the ground.
Set far enough back in one of Marsh's fields, the cars are remote enough to invite vandalism in the form of grafitti and to make a dramatic photo opportunities.
Cars on a spike?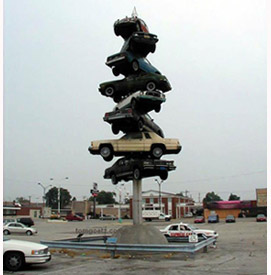 Image from Tom Geotz
Lovingly nicknamed The Spindle, this may have been the most difficult car art undertaking we researched. Randomly located in the parking lot of a shopping center in Illinois, The Spindle is a forty-foot spike driven straight through the eight cars impaled on it. Created by an artist from LA, Dustin Shuler in 1989, this odd sculpture was even featured in the movie Wayne's World.
With movie credits and a confounding nature, this is definately credited as one of the most eccentric weird car art to date.
Unless of course someone out there knows something we don't. If you've got good car art to share, let us know.