Time Magazine's Worst cars of 1958
Time Magazine tackled a monumental task by narrowing down the worst of the worst vehicles ever made. They compiled a list of 50 Worst cars of all time broken down by the years they were produced.
Here is the fifth installation of articles targeting the bottom feeders of the automotive world.
Ford Edsel 1958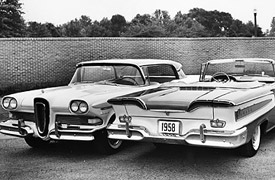 Image from Time
The Ford Edsel is one of the vehicles on this list that probably everyone has heard of at some point or another. It was ungainly, got terrible gas mileage and it cost way too much.
The Ford marketing team talked the Edsel up to be better than sliced bread. The car itself was not well received, which could be because the front grill resembled a part of the female reproductive system that in the 50's was not so publically celebrated.
Eventually Ford's president Robert McNamara that convinced the board that the Edsel was better left for the worst car of all time list.
Lotus Elite 1958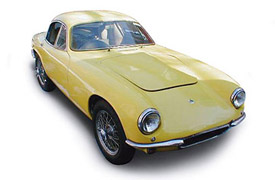 Image from Time
The Lotis Elite was built from fiberglass, during pre-carbon fiber days. It was resiliant, versatile, lightweight, and reasonably priced.
It makes sense that the founding engineer of Lotus, Colin Chapman was always looking for ways of cutting weight in his vehicles. So fiberglass was a natural step for the sportscar company. The Elite weighed 1,100 pounds and was powered by a 75-horsepower Coventry Climax engine and was a successful race car.
In the end the unreinforced fiberglass proved to be no match for the strain put on the structure and the car proved to be worthless.
MGA Twin Cam 1958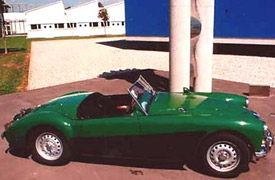 Image from Time
The MGA was not a terrible car, in fact it was a great little sports car that wouldn't have made it to this list had they just left it alone.
However someone decided that the MGA needed a little more speed so they came up with the "twin cam" version. The twin cam engine was a leaky nightmare that refused to run unless all conditions were perfect.
After the fact, the problem was discovered to be the carburetor. At specific RPMs the frequencies caused the fuel mixture to foam up which led to burnt pistons.
Zunndapp Janus 1958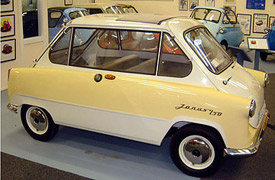 Image from Time
A German addition to the list is the Zunndapp Janus, built by a motorcycle maker during a time when the two wheeled market was parked. It offered a 250-cc 14-horsepower and only hit 50 miles an hour.
The car was slow and ungainly and one it's distinguishing features was it's rear-facing back seat. This meant that passengers in the car could watch the countryside slowly rolling by backwards, much like a golf cart.