When the Chevrolet Malibu was named the North American Car of the Year at the Detroit auto show at the start of 2008, some car-watchers were left scratching their head.
What was a nearly 50-year old car, a former muscle car at that, doing taking the top prize at a car show in the auto heartland of America?
The Malibu's Big Makeover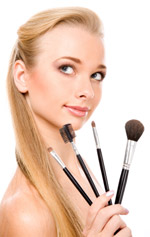 The Malibu gets an overhaul pretty regularly for years that end with an "8" –  2008 being no different.
This time around Chevrolet went all out, and the results were evident: a sales jump of 23% in 2008.
What changed? Chevy decided to go head to head with the hot sellers in the segment, the Toyota Camry and Honda Accord.
Essentially improvements in quality and fuel efficiency resulted in a bigger take of the market.
It quickly became the fourth-best selling model in the entire lineup of General Motors, and grabbed a rare distinction of winning awards in a launch year.
Often a full redesign presents some hiccups and quality-control challenges as automakers tweak older versions and use new materials.
Chevy must have known it had a winner, as it increased the Malibu's price and strayed away from trying to undercut Japanese competition with cheaper materials and pricing.
From Super Cool to Efficient
The Malibu's sales success came amid a changing GM focus, away from constantly bolstering pickup trucks and sport utility vehicles for the quick buck. Gas prices changed all that.
The company made a public announcement recently that it was stepping back from the old trucks-and-SUVs focus, and trying to make better, more fuel-efficient vehicles.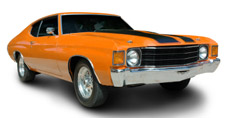 Consumers today want cars, not trucks, and the Malibu has been attractive especially with its four-cylinder engine.
That's a far cry from when the Malibu was co-branded with the Chevelle – not exactly the most gas-friendly car GM has ever produced.
Gone are the 350-horsepower Chevelle Malibu engines of the mid-1960s.
Today's Malibu owners choose as engines:
A 2.4-liter LE5 I4, generating 169 horsepower
A 3.6-liter LY7 V6 for 252 horsepower
A Hybrid engine, a 2.4-liter I4 for 164 horsepower
A hybrid Malibu? Who would have thunk it?
For the past many years, Malibu models were not hip at all, rather bland, and competed basically through cheaper materials and lower prices compared with the Camrys and Accords out there.
The result was more than half were sold to companies, the so-called fleet customers. This is no longer the case.
Today less than a quarter of Malibus are being sold to fleets.
Bold New World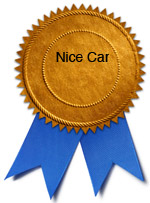 Today's mid-size sedan Malibu won the North American Car of the Year Award after being selected by 47 automotive journalists from the United States and Canada. Some came from Fortune magazine, others from Edmunds.com, the Chicago Tribune, and other esteemed publications.
Eligibility was limited to vehicles that were "all new" or "substantially redesigned" from the previous model year.
Part of the Malibu's appeal is a new twin-cockpit interior design that pays homage to classic Chevrolet Corvettes. Also, the new exterior shape was designed to mimic European luxury sedans, with smooth sides and a wide rear window pillar.
The first Malibus were a higher-end subseries of the Chevelle, produced from 1964 to 1972.
They were mostly available in a wide range of body styles including a four-door sedan, two-door coupe hardtop, convertible and two-seat station wagon. It's hard to imagine a Malibu station wagon today.
What you see today with new models is a four-door sedan, with the GM Epsilon platform, making it overall 3 inches longer, and extending the wheelbase by six inches.
One thing that did not change from 2007 was trim levels, still coming in LS, LT and LTZ, with four-speed or six-speed automatic transmissions.