Are automakers taking a cue from new-home sellers, by offering some of the strangest contests or incentives imaginable?
For months homebuilders have worked diligently to attract potential buyers and boost traffic in their models, by giving away gas cards, free tickets to amusement attractions, and the like.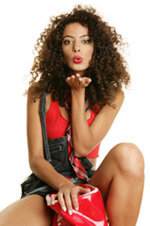 Some have had contests for no mortgage payments for a year; others have pitched contests for rooms full of Disney furniture.
Saturn is Pulling Away
A recent media release by Saturn puts them to shame.
The General Motors division has launched a national photo contest, called "Kiss My Astra."
In it, Saturn enthusiasts can kiss an Astra model, have a photo taken of the act, and then upload the photo on ImSaturn.
Whoever submits the "funniest, most creative photo," selected by online Saturn fans, will claims a 2008 Saturn XR 5-door.
"Saturn vehicles have always inspired feelings of passion from our owners, and the Astra is no exception," Matt Armstrong, Saturn car marketing manager, said in the release. "With the 'Kiss My Astra' photo contest, Astra fans can share their public displays of affection for this fuel-efficient, great-looking new car."
Are Saturn models so popular that they attract their own online community? That's what Saturn officials are saying.
Out-of-This-World Online Community?
To participate in the contest, people have to join the ImSaturn online network and log in. 
The release states this: "In September, a group of 'Astra-ologists' from Saturn will select 20 finalists. Visitors and members of ImSaturn.com will then cast their votes for the best 'Kiss My Astra' photo."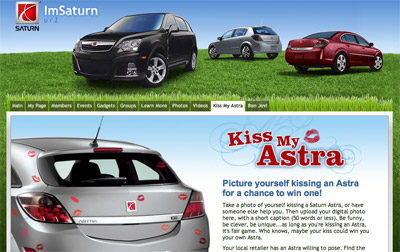 Astra-ologists?
Well, taking a peek at the Astra reveals why it might be attracting a following. With an EPA-estimated 24 miles per gallon in city streets and 32 mpg on highways, Saturn claims that no five-door vehicle in its class gets better mileage than its Astra.
Its variable valve-timing, 1.8-liter engine kicks out 138 horsepower, to go along with good space inside and considerable storage capacity, according to Saturn.
A big dual-panel sunroof is nice, but options are very limited. The company mostly touts a choice between a standard AM/FM/CD player, or a six-disc CD changer with MP3 disc playback with a seven-speaker audio system.
But don't look for satellite radio or auxiliary input, because you won't find it.
The Astra comes in three- or five-door hatchback body styles, and with sales beginning in January 2008, Saturn plans for it to replace the Ion as its smallest model.
The Astra XE is the standard trim level; the XR only comes in the three-door style, and adds 17-inch alloy wheels.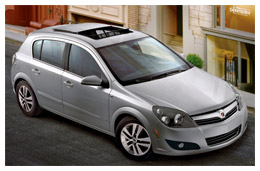 Cute Enough to Kiss, Without the PR
A criticism of the Astra is it is barely more affordable than the next-biggest Saturn model, the Aura – and they share the same fuel economy.
The manufacturer's suggested retail price for the Astra is $17,425, while the Aura starts at $21,345.
Maybe that explains Saturn's promotional push with the kissing photos.
Other small fuel-efficient vehicles appear to be going in the other direction – no special contests necessary. People are actually waiting for one to become available.
Take, for example, the Smart Fortwo. With gas prices topping $4 per gallon, interested buyers are putting down $99 and waiting up to nine months for the two-seat, pod-shaped Fortwo.
It's parent company, Daimler AG, claims the waiting list tops 30,000 customers, and a good chunk of them choose to buy once their name reaches the top.
To get its 33 to 41 miles per gallon, one would have to plop down a bit more than $12,000 for a basic model, about $17,000 to go convertible.
And it's cute enough to kiss – without a contest or photos.