Need to sell a car on Craigslist?
If you must sell your car yourself, online communities like Craigslist are a good place to start. Here we will teach you the simple steps required to sell a car on Craigslist.
The process is easy and in a few short minutes your used car ad can be up and running, plus the ad is free and their site is popular enough to earn it decent traffic.
First step: check out the Craigslist site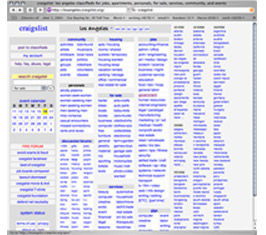 There is a localized page for almost every city you can imagine and that is where you need to start. Simply go to your favorite search engine and type in 'Craigslist' and the city in which you want to sell.
Fly right through the process by clicking in the below order from your city's homepage:
Post to classifieds
For sale
Cars & trucks
Pick the area closest to where you wish to sell
Second step: place your ad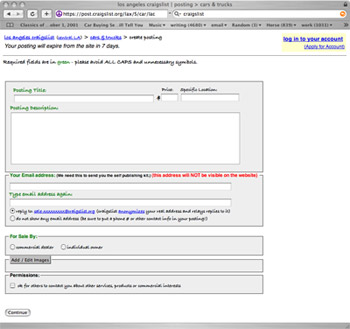 This part may seem easy, but be sure to give it some thought. Here are some tips to help you place an ad that is sure to sell your car on Craigslist:
List your specific location Don't waste your time talking to potential buyers far away
Give a very detailed description Don't waste time talking to potential buyers who don't want what you've got
Add images They allow four, so make them quality
Don't list contact information Craigslist allows you to be contacted anonymously, potential buyers can contact you without invading your privacy
Third step: Proofread your ad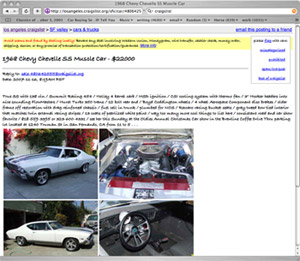 Once you are finished with the hard part posting is easy. Above is rough idea of what your ad will look like, so there is plenty of room for detail and good photos.
Be sure to give it a good proof read to ensure that the ad is easy to read and offers enough information to potential buyers.
And you are done, three steps then wait for your inbox to start buzzing.
If that process is too long and involved for you, try our online form, we make it easy.