Ford's Flex, a full-size crossover just hitting showrooms summer 2008, has created a considerable buzz among automotive journalists.
It's both difficult and easy to understand the interest in this vehicle.
This is an American automaker rolling out a brand new vehicle which is essentially built to move lots of people that looks like a sport utility vehicle.
Does America Have Room For Another CUV?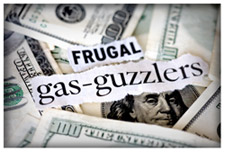 Our question is this: Wait, isn't the SUV dying a slow death due to high gas prices?
Sure, it's a crossover, which results in better fuel economy, but enough to entice prospective new-car buyers to return to big?
The Flex is intended as an alternative for families from minivans and, yes, SUVs.
Why? Its official market is the crossover, or crossover utility vehicle.
Crossovers are cars, not trucks like SUVs, and are therefore easier to drive and less painful at the gas pump.
A crossover uses a car's unibody construction, unlike the body-bolted-to-frame construction of SUVs and trucks.
It's easy to see the interest, as people can drive around in what looks like an SUV and still haul all the kids and cargo, without getting killed at the gas station.
Still, there are skeptics. Some say the crossover is merely a marketing term. In January 2008, a Wall Street Journal article called CUVs "wagons that look like sport utility vehicles but ride like cars."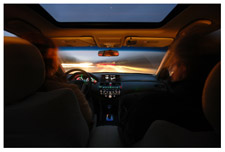 Being Different, Inside and Out
So why is Ford rolling the dice with the Flex, a car with many parallels to an SUV in an anti-SUV society?
Some say the attraction is in the versatility, size and resulting better gas mileage.
Others like the way they look and feel. The Flex's exterior is indeed unique, more squarish in the back than typical SUVs, with options for different window placements, including on the roof.
Some say it looks like an old-school station wagon.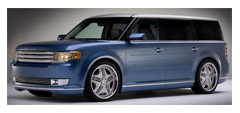 That is, without being able to detect the pillars and windows – they are blacked out to blend together.
The roof comes in white, silver, or a cool style called "body-colored."  Its large wheels, 18- or 19-inch, stick out nicely. There are neat features and gizmos inside and out.
Something that will open the eyes of its owners is a "capless" fueling system, which does not have the usual door and cap, instead using a sealing system that avoids losing emissions from the tank.
Options include
An integrated navigation, phone, satellite radio, DVD and CD system
Programmable lighting to create "moods"
A refrigerated console between second-row chairs
The refrigerated compartment can cool up to seven 12-ounce cans, four half-liter bottles or two 20-ounce bottles to 41 degrees. It can also freeze down to 23 degrees! Perfect for tailgate parties.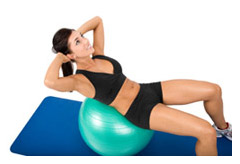 How They Build the Flex
Ford's new CUV comes in SE, SEL and Limited trims, and is powered by a 262-horsepower 3.5-liter V6 engine and six-speed automatic transmission. Front-wheel drive is standard; all-wheel-drive is optional.
The Flex name comes from its production at what Ford calls a "flexible" assembly line in Oakville, Ontario, the same place that produces the Edge and Lincoln MKX crossovers.
Among Ford's crossover lineup, it serves as its full-size CUV, bigger than the mid-size Edge and full-size CUV /wagon Taurus X.
Price-wise, its starting manufacturer's suggested retail price is $28,295, more than the Taurus X, but not as much as the Explorer.
A key to early raves is its seven-passenger capacity.
First the minivan carried that many people, until it was surpassed in coolness by SUVs.
Basically the Flex melded the shoebox shape of the minivan with utility of an SUV. Only time will tell if Ford succeeded in crossing over the market.