A recent CNNMoney.com report about auto theft rates offers an interesting glimpse into what thieves look for – and can help guide you if you're in the market for a used or new car.
The report cited the 1995 Honda Civic as the most-stolen vehicle in the United States in 2007, according to the National Insurance Crime Bureau.
Called its annual "Hot Wheels" report, the Bureau noted second place went to the 1991 Honda Accord, followed in order by the 1989 Toyota Camry and the 1997 Ford F-150. The top four did not change from statistics logged in 2006; and the '95 Civic has been in the top 10 for four straight years.
Know Which Cars Are At Risk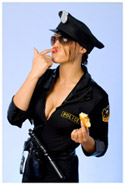 All of this is valuable news if you are currently eyeing one of these models. Also of interest is why auto experts believe these vehicles are being targeted.
Overall the report wasn't all bad news. It noted that auto theft rates have dropped nationally for every year since 2004, including by 8.9% in '07.
Experts cited efforts by law enforcement and the insurance industry for the ongoing drops.
But that doesn't mean auto theft has gone away, or ever will, despite improved prevention mechanisms such as car alarms, or police investigative tools.
Age, Make and Model Play a Role
Always at or near the top of the Bureau's list are older-model Hondas and Toyotas. The theory is, they are popular and dependable, meaning more older versions are on roads as targets.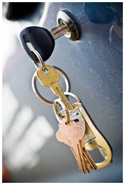 Also, some old Hondas and Toyotas hardly changed for several years which increased their value for parts.
Rounding out the top ten were the 1994 Chevrolet C/K 1500 Pickup, the 1994 Acura Integra, the 2004 Dodge Ram pickup, the 1994 Nissan Sentra, the 1988 Toyota Pickup, and, in just its first year, the 2007 Toyota Corolla made the list.
Owners of newer models are more likely to invest in theft-deterrent systems, such as alarms, kill switches, and tools that can cut off fuel. Owners can also invest more and get tools that track cars if stolen, helping police find and recover them.
The easiest and least expensive deterrent is locking your cars and taking the keys with you, experts said.
Deterrents can help shoo a thief away from your car to target another, especially if your car has a sticker or something to show off the item. Dealers often will place stickers on side windows, near the locks, to show a car has been fitted with an alarm.
Catching Car Thieves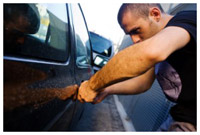 Law enforcement practices have evolved greatly regarding auto theft, including increased use of license plate readers, and "bait cars" – imagine an undercover officer near a 1995 Civic in a high-crime area!
The art of tracking vehicle identification numbers, or VINs, has evolved greatly especially now that computers can be tapped.
Investigators can be tipped by auto mechanics about a suspicious engine being ordered for placement into a car, take the VIN, and investigate whether the engine matches the vehicle.
Recovery of stolen vehicles can be unpredictable. Many car owners have heard stories from other people whose car was stolen, and within weeks they feared their vehicles were already being sold for parts.
Interesting new security devices, such as DotGuard microdots, let individual car parts be identified and possibly returned.
Recovery rates depend on a jurisdiction's police department's focus. It helps if location devices have been installed.
Police might order random checks of cars that patrol units roll behind, or order checking all vehicles parked along a specific street or within a parking lot.
They also can keep a "watch list" of all vehicles reported stolen within their jurisdiction or a certain area.