Buying a car is a big deal so it's important to have checklist and all of the proper paperwork information prior to shopping.
This article will help you locate the information you need to cover yourself whether you are purchasing new from a dealership or used from a private party.
Protect yourself
The following are several tips the DMV offers to car buyers for protecting themselves during the car purchasing process:
Know that there is no 'cooling off' period when you purchase a vehicle from a dealership.
Be aware of the laws regarding new and used car purchases.
Research the vehicle you want to buy so you have a clear idea of average pricing.
Read your purchase contract until you understand it, before you sign it.
Read your warranty until you are satisfied you understand it.
Compare interest rates, shopping can surprise you.
Be aware of the DMV registration fees you will be expected to pay.
Be aware that on vehicle documents if the word 'or' appears between the names of two co-owners that gives one the right to sell the vehicle without consulting the other.
Conversely, putting 'and' (or a /) between the names of both owners indicates the necessity for both parties to sign off on the sale of the vehicle.
Last, if you are going to buy a vehicle out of state, be sure you know about any restrictions first.
Purchasing a car from a private party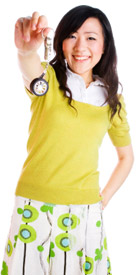 Obviously there are big differences in the way you must handle a transaction with a private seller as opposed to a dealership purchase.
As a buyer, it is important to do a bit more research if your goal is to purchase a used vehicle from a private seller. Dealing with the public means you have to trust a stranger.
When you purchase a vehicle with California registration you have ten days to transfer ownership into your name.
The buyer will be expected to have the following information when they visit their local DMV:
A pink slip that has been endorsed by the previous owner. If the title is missing the buyer can fill out an application for a duplicate title Reg 227 and pay an additional fee for a duplicate title.
An odometer reading if the vehicle is less than ten years old.
Smog certification, or proof of submission of a biennial certification within the past 90 days.
Money to pay their transfer fee and tax if applicable.
Buying from a dealership
The whole process is made much easier through a dealership which will usually offer to take care of all of the required paperwork through the DMV.
However, it is smart to double check with the DMV prior to the end of the 10 day title transfer period just to be sure.
Helpful information
The DMV offers pages and pages of information for drivers who use their services. This page will answer almost any question you may have about buying a car in the state of California.
If you need to sell a car you can always call us 1-800-946-7700