You would think that Volkswagen would be sitting pretty when the tide turned toward smaller, fuel-efficient vehicles in the American market.
But the German-based automaker wants to remain edgy. Word is out that the company is working on a new version of its rejuvenated-yet-old Beetle.
Apparently the New Beetle is not so new anymore, and, well, VW is learning that its demographics are proving to be a bit limiting.
The New Beetle is A Chick-Ride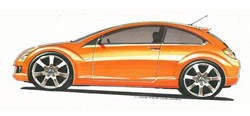 It's hard to increase sales when the target market doesn't include men from the ages of 16-35.
So off to the drawing board Volkswagen went, and it expects to launch its new creature in 2010.
Rumors are that the 2010 Beetle again will be designed in California, and engineered in Germany. The California angle is key.
Volkswagen aims for a more hip, aggressive, coupe-style body for the Beetle of the future.
Gone will be the perfectly rounded roofline, and overall bug shape. The new new Beetle will lean back more, with more height to the rear end, as opposed to the center roof bookended by a symmetrical front and rear.
It will be a bit bigger, and more roomy inside. Some automotive journalists hope there will be speedster and roaster versions of the Beetle.
Plans are for it to share a platform with the upcoming Scirocco – talk about a car from the past re-emerging – as well as a newer Rabbit.
It sounds bold, as the move could backfire and cause heartburn for both the New Beetle and new new Beetle.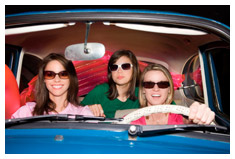 Sub Out the Brand, Sell More VWs
Volkswagen is likely thinking of creating a sub-brand of the ever-popular Beetle. Think Mini and BMW.
Not everyone has a taste for the New Beetle. But most everyone today would prefer a car that is easy on the pocketbook at the gas station.
So aim for basically the same product, only tinker with minor details and variants to present something for everyone.
The new new Beetle is being designed as a hatchback, with thought of offering a soft-top cabrio soon thereafter.
Other ideas are a sport wagon trim, and maybe even a micro-van, pickup, or crossover.
Micro-van? Could it be a return to the VW van of the 1960s?
Maybe it's a push to continue nostalgia for VW. The Beetle first arrived in America in 1949, and by the 1960s became somewhat of an icon, capturing 7 percent of the U.S. market.
But by the 1970s the popularity began to wane.
After a lengthy hiatus, the New Beetle arrived in 1998, resembling the old "Bug" greatly but with modern automotive features and amenities.
VW Wants to be America's Darling Again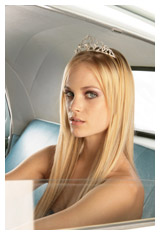 Some say Volkswagen is working again to reconnect with American car buyers. Sure, baby boomers and other adults are familiar with the products of yesteryear.
But what about those just getting driver's licenses?
That falls in line with the company's plans to build a $1 billion plant in Chattanooga, Tennessee. The plant is scheduled to open by 2011, and start by producing 150,000 cars annually.
Currently Volkswagen's share in the American auto market is 2%.
So there is talk of producing autos with "significantly improved fuel consumption," and even hybrids.
Will it connect with today's American motorist?
It's hard to say, since the new new Beetle is planned for production in Mexico, according to Auto Business News.
By the time it reaches showrooms, Americans may be facing record unemployment rates and could backlash against cars not built through local jobs.
Then again, the economy might recover in perfect timing for the new new Beetle. Perhaps timing is everything.