Buying a car is difficult enough for yourself, however buying the first car for your teen can be a real chore. Not only must you consider their wants and desires, you also must factor in safety, reliability and ease of use.
Ultimately as the parent or guardian you are responsible for guiding your teen in their first car purchase, whether or not you are willing to foot the bill. Make sure you are informed and can help them pick a good one.
Steps you should take
Clearly there are steps to any successful auto purchase and we have a whole article dedicated to avoiding the purchase of a lemon. Worth a look before you begin.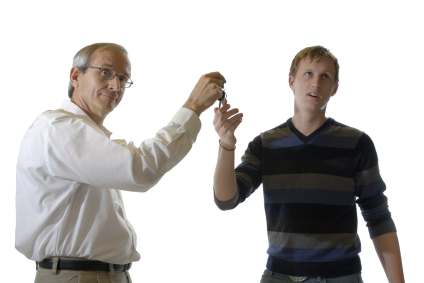 Do your homework
Don't let your teen dream big
Don't buy the first car your teen falls in love with
Narrow your options
The rest
Do your homework ~
We stress this point in every article we write, make sure you've researched. Look at crash test ratings, customer satisfaction surveys, Consumer Reports, research anything that could be applicable to your situation. The more you know the less your teen will question the decisions you make on their behalf.
Don't let your teen dream big ~
We want our children to dream, however a used vehicle purchase should be realistic. Once you've established a price limit, stick with it, even while shopping. Test driving vehicles out of price range is an exercise in futility.
Don't buy the first car your teen falls in love with ~
Teenagers are prone to impulsive decisions, which is why they need your help with the big ones. They may beg, plead or cry, but do not buy them a vehicle on impulse. Look at and test drive at least 10-15 vehicles before you start the comparison process.
Narrow your options ~
Once you have viewed and driven a sufficient amount of vehicles for consideration, it is time to decide your top three. Make a list of pros and cons, and weigh each option based on its importance. Once you have narrowed down the field revisit your favorites. Test drive them again and don't be shy, ask questions of the owners to help solidify your final decision.
The rest ~
Once the decision is made, your teen will need your guidance more than ever. Your life experience is invaluable when it comes to haggling sales price and deciding which mechanic should give the vehicle a final thumbs up for purchase.
Odds and ends
This is a simplified guide for helping ensure your teen gets a good first vehicle. Obviously safety is the most important factor for any parent, regardless of the teens desire for cool wheels.
Assert your authority to ensure that their first car purchase isn't a disaster.
3 more tips for mom and dad
1) If you don't have a mechanic you trust, ask the people you trust for a recommendation
2) Factor your inspection, and applicable DMV fees into your budget prior to beginning the process.
3) Chances are the safest options are not going to be the coolest, stick to your guns and feed your peace of mind. Your teen may be driving the car, but you will be home worrying about them. Find something that lets you sleep at night.